Philo
8750 Philo School Rd
November 4 & 5, 2023
Harvest Tidrick Celebration Weekend
Get Pump(kin)ed Up with Food, Chenin Blanc, Library Pinot, & More!

Fall in a slice – heirloom pumpkin, grown in our garden, topping delicious wholegrain flatbreads with shallots, sage and brown butter sauce. Local green salad as a side. Perfect with our sublime Chenin blanc. We will have a local's favorite game – Washers – for your sporting interests and my favorite 80s hits on the radio. I'll crack open some fun library Pinots to drink while you reminisce about Reagan and, Anyone?, Anyone? – Voodoo Economics.
2/17-2/18/2024
White Wine Weekend Event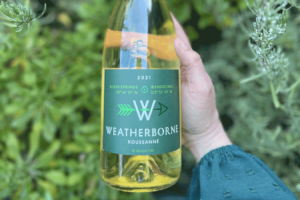 Crisp Chenin, Round Roussanne & Crunchy Pizza Fritta

Taste with Winemaker Cris Carter. Along with our delicious whites, we will have eminently pairable Grenache and Pinot, including a library 2012, our first release. Pizza Fritta is a fun street food, fried dough topped by sauce and toppings, some traditional and some more creative gourmet options.
ABOUT
Weatherborne produces limited amounts of Pinot Noir, Grenache, Grenache Blanc and Chenin Blanc, from Mendocino and beyond. We believe authenticity and transparency are endangered values in the wine world. Our wines are handcrafted, expressive of place and without pretense.
TASTING ROOM
Reservations Recommended
AMENITIES
Winery Tours
Dog Friendly
Kid Friendly
AV WINES PRODUCED
Pinot Noir
NON AV WINES PRODUCED
Grenache
Grenache Blanc
Chenin Blanc
Roussanne
Rosé